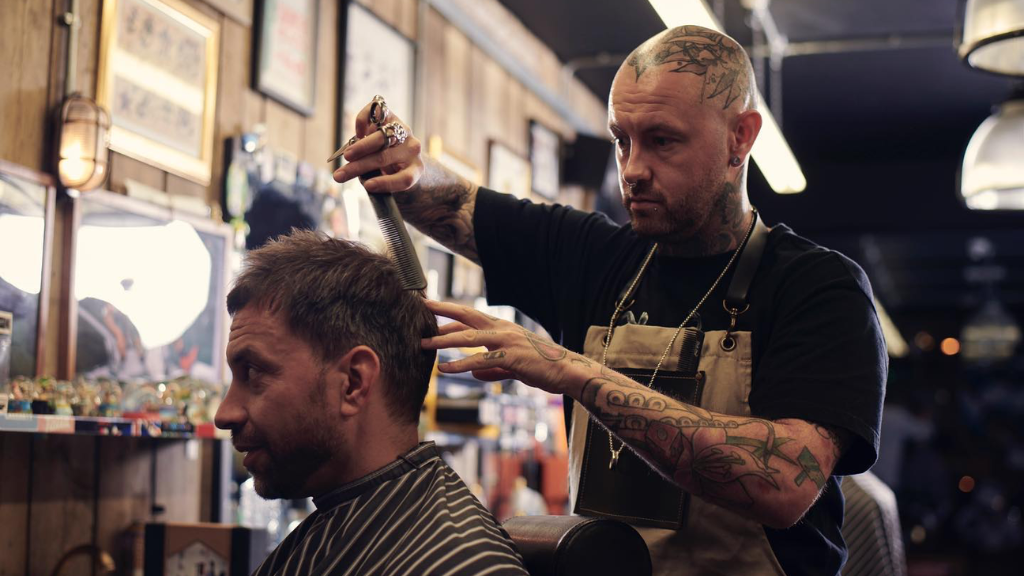 Barbering is much more than a haircut. It is a way of life. It represents the perfect fusion of tradition, technique, innovation, vision – and passion.
Dark Stag respects barbers as the ultimate experts – masters of their craft – and they exist to equip them with the most trusted tools and finest professional styling products. After supplying barbers and the industry for over half a decade, it's safe to say the guys at Dark Stag know a thing or two about barbers.
This is why they now want you, the barber, to take the power back! They have seen the same thing happen over and over again within the industry. A brand starts from the very bottom and integrates itself with barbers, the brand picks up a bit of traction and next thing you know, the product is available everywhere. This means that barbers who helped grow the brand are the ones missing out, because they are being undercut by huge online retailers and big conglomerates who can afford to sell at the cheapest possible price.
This is why the Ask Your Barber campaign was born. Ask Your Barber is Dark Stag's new styling range with a game changing ethos based around respecting and supporting barbers. This is a range they can truly own and be proud gatekeepers of.
Dark Stag do all this in service of their primary mission: to unleash the creative potential of the global barber community.
So what does the range consist of?
The range currently has 4 grooming products: Sea Salt Spray, Matte Clay, Light Shine Pomade & Hair Styling Powder.
Effective as a pre-styler in combination with other products, or used solo for building and enhancing texture, this Sea Salt Spray is Neptune's gift. With a winning formula, this can be spritzed and blow dried, or left to air dry for a back-from-the-beach finish. Works like a dream on longer styles or refreshing curls, and instantly powers all hair types beyond that just-shampooed state. Light but lasting hold. Smells like summer holidays. Water soluble for easy wash out.
What does it do?
Provides a rough and ready look or a foundation for finishing touches with gritty texture and boosted volume. Smells fresh and prepares or enhances styles like modern mullets, any textured or long styles, and more.
Amazingly adaptable, the carefully honed Matte Clay excels at delivering a natural, zero-shine look that can be restyled throughout the day. Perfect for creating texture and adding definition. Firm Hold. Scented with an exotic coconut fragrance. Water soluble formula for easy wash out.
What does it do?
Provides the perfect reworkable matte finish and definition without stickiness or clumping. Smells appealing and firmly holds styles like textured quiffs, tapered fades, messy french crops, and more.
Some styles demand respect. The Light Shine Pomade answers that call with a medium to firm hold and perfectly balanced shine. Vastly versatile with excellent distribution in the hands, this pomade is ideal for making sure classic styles look and stay sharp. Long lasting with an addictive black pomegranate fragrance and water soluble for easy wash out.
What does it do?
Provides professional shine and style with a medium-firm hold. Create and hold sleek traditional styles, slickbacks, side parts and more – whilst delivering a subtle and intriguing masculine fragrance.
Our superior powder means sculpting with maximum precision. Boost volume and enhance style with ease – just shake and shape. We acted on barber feedback to nail the perfect particle size… so, no clumping! Can be applied in stages to dial up the hold from medium to strong. Star performer against current category leaders with long lasting, natural, and reworkable results. Unscented and water soluble for easy wash out.
What does it do?
Provides weightless volume with matte finish for a reliable and controllable medium/strong hold with enhanced texture. Reworkable formula allows detailed styling for the perfect finish. Ideal for many short to medium length styles, and more.
There is no shortage of styling products out there. Its a total wild west. Choosing something fresh to offer clients can sometimes feel like a gamble.
The big question is: will it perform? Will clients like the way it smells?
Dark Stag don't think it should be down to chance. That's why not them – but Barbers – ruthlessly tested the entire range and picked it apart so they could rebuild it again even stronger. And using expert insights and months of real world barbershop data.
This process was exhaustively repeated until it surpassed all expectations. ASK YOUR BARBER is a winner built from Barber feedback.
You can buy the Ask Your Barber range and more of the Dark Stag range now here!