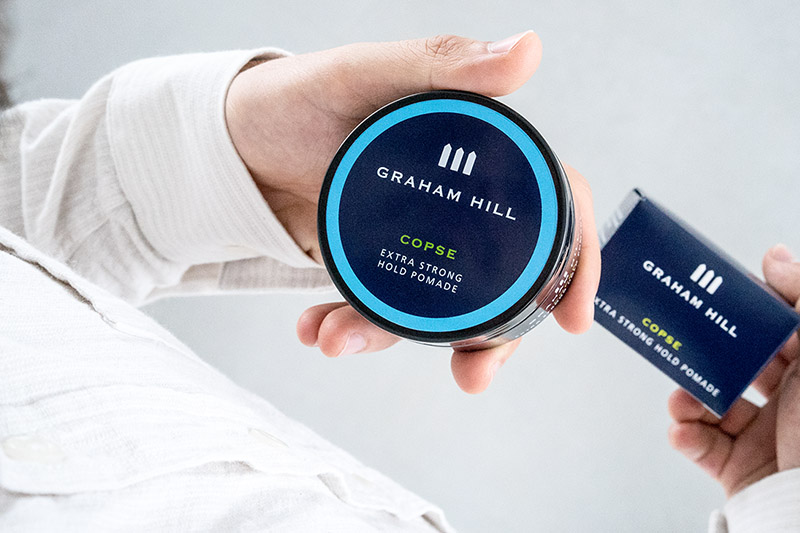 If you haven't heard, Graham Hill is the latest brand to arrive here at Barber Blades! The brand itself hails out of Hamburg, Germany, but has ties relaying back to the U.K. The name behind the brand Graham Hill was world renowned for being one of the most successful racing drivers in history, but the man was more than a race driver; he was the quintessential British gentleman. Polite, respectful, accomplished, a style icon. The Graham Hill product line is a tribute to the British trailblazer, and you can shop the products exclusively at Barber Blades. Below are some tutorials which will ensure you get the very best from each product!
Copse Extra Strong Hold Pomade
When you first get your hands on the Copse Extra Strong Hold Pomade, you may find it difficult to get any from the pot but don't be daunted by this! It's meant to be like this. It's recommended to take off the lid of the pot, give it a quick blast with a hairdryer allowing it to ease up, making it ready to style those epic pompadours! Use in conjunction with Stowe Wax Out Charcoal Shampoo.
Rascasse Beard Wash Powder & Arnage Face And Beard Balm
Rascasse Beard Wash is unique to your regular beard wash as it comes in powder form! The pot is specifically designed to dispense the right amount of powder for use each time it is turned upside down. Once the powder is in your hand, add a little water to form a lather and rub into the beard. The cold pressed jojoba oil provides moisture for the skin underneath the beard, which is often neglected and very dry. It's finished with the wonderfully crisp scent of fresh mint.
Once the beard has been washed, it's time to protect, refresh and care for the facial fur and skin! Arnage Face & Beard Balm contains amino acids which will give the skin a delicate suppleness. The great thing about Arnage is that it can be used as a post shave balm also, so it isn't exclusive to people with facial hair.
Hangar Rough Paste is probably the most versatile product from the Graham Hill range. Primarily it can be used for styling casual, every day looks as it is perfect for making fine hair looking fuller and lending it some structure. It gives a natural hold, allowing the hairstyle to be reworked throughout the day if needs be. An insiders tip is that it is excellent for styling beards, by using just a tiny drop of Hangar you can shape and style!
You can shop the full range of Graham Hill here.